Tips and Tricks for AlphaBaby Free


Customize AlphaBaby for your child! Look below for the basic ways to personalize AlphaBaby using your own photos and voice. Check out our list of Frequently Asked Questions for even more info on using AlphaBaby Free.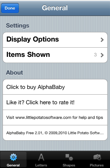 Choose what you want to see on the screen, and how many items to show at a time. Working on learning the alphabet? Just display letters. Starting to count? Just display numbers.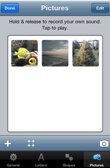 Add your own photos to AlphaBaby! Any photos added are displayed when your child taps on the screen. Record your own captions for the photos to remember names of people and places.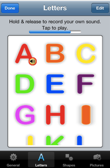 Record your own voice! Replace the built in sounds for letters and shapes with your own version of the sound. Or, let your child record their own voice!
Interested in upgrading from AlphaBaby Free to the full version of AlphaBaby or to the newest offering -- AlphaTalk? Each program only costs $.99 USD, and you get the following additional features:
Feature
AlphaBaby Free
AlphaBaby
AlphaTalk
Touch to speak letters and shapes
X
X
X
Record your own voice
Limited to 5 sounds
Unlimited sounds
Unlimited sounds
Add your own pictures
Limited to 3 pictures
Unlimited pictures
Unlimited pictures
Change what items are shown on the screen
X
X
X
Change how many items are shown at a time
X
X
X
Support for sets
X
X
Turn off hints
X
X
Disable setting prefs in the app
X
X
Show lowercase letters
X
X
Show letters and numbers in order
X
X
Quiz Mode
X
X
Speak color names
X
X
Spanish words and sounds
X
Add words with sounds and pictures
X
Use voice synthesizer on iOS7
X
Share sets with AirDrop
X
Expanded Quiz Mode options
X